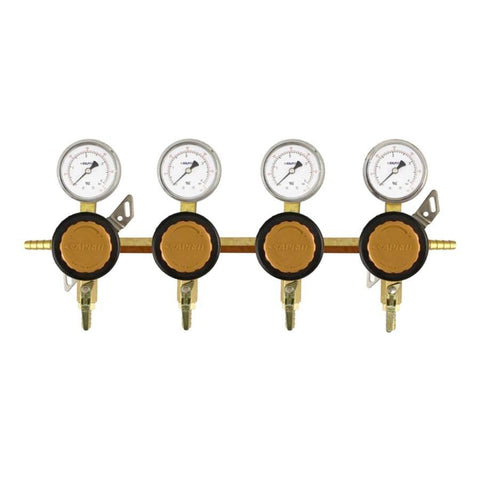 Taprite Secondary Quadruple Pass-Thru CO2 Regulator (60 PSI) [T1694STC-01]
Easily carbonate and serve up to four kegs with the assistance of this secondary CO2 regulator manufactured by Taprite.
Equipped with four 60 PSI gauges, this regulator seamlessly operates within a working pressure range of 0 to 50 PSI. Its pressure relief valves are thoughtfully set to release at 55 to 60 PSIG.
The regulator is crafted with durable brass bodies accompanied by polycarbonate bonnets, ensuring its longevity and reliability.
For convenient connectivity, the inlets and outlets are fitted with 5/16" OD barbs. Moreover, the outlets are equipped with shutoff valves for added control.
Specifications:

To protect dispensing systems each regulator has a built-in high volume external safety relief valve factory set to relieve at 55-60 PSIG.
Taprite secondary regulators are designed to further reduce pressure from a primary regulator to a proper dispensing level.
Internal relief valve opens if the delivery pressure exceeds set pressure by 15 PSIG. This serves as a warning that the seat or diaphragm may be worn and require replacing.
Forged brass body for greater durability. Body has enough mass to serve as a heat sink to help prevent freeze up. Can handle Co2
Pass-Thru design allows full pass-thru through the body
Polycorbonate Bonnet
5/16" OD barbed inlet (Right hand thread)
Body parts are 1/4" NPT (Right hand thread)
5/16" OD barbed shut-off valve outlets (Right hand thread)
Working Pressure Range 0-50 PSI
Front loading seat assembly is easily replaceable in the field
Comes with wall mounting brackets
0-60 PSI low pressure gauges (Right Hand Thread)
---
We Also Recommend