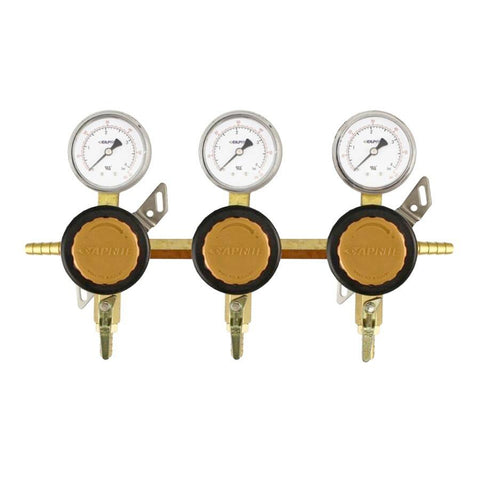 Taprite Secondary Triple Pass-Thru CO2 Regulator (60 PSI) [T1683STC-01]
Experience the convenience of carbonating and dispensing three kegs effortlessly with the help of this state-of-the-art secondary CO2 regulator designed by Taprite.
Featuring three high-performance 60 PSI gauges, this regulator maintains a working pressure range of 0 to 50 PSI, ensuring optimal carbonation levels for your beloved beverages. Additionally, the built-in pressure relief valves are thoughtfully set between 55 to 60 PSIG, offering an added layer of safety.
Crafted with sturdy brass bodies and resilient polycarbonate bonnets, this regulator guarantees long-lasting durability and reliability.
All inlets and outlets come equipped with 5/16" OD barbs, providing a secure and leak-proof connection for seamless operation. Moreover, the outlets are equipped with convenient shutoff valves, allowing you to control the flow with ease.
Specifications:

To protect dispensing systems each regulator has a built-in high volume external safety relief valve factory set to relieve at 55-60 PSIG.
Taprite secondary regulators are designed to further reduce pressure from a primary regulator to a proper dispensing level.
Internal relief valve opens if the delivery pressure exceeds set pressure by 15 PSIG. This serves as a warning that the seat or diaphragm may be worn and require replacing.
Forged brass body for greater durability. Body has enough mass to serve as a heat sink to help prevent freeze up. Can handle Co2
Pass-Thru design allows full pass-thru through the body
Polycorbonate Bonnet
5/16" OD barbed inlet (Right hand thread)
Body parts are 1/4" NPT (Right hand thread)
5/16" OD barbed shut-off valve outlets (Right hand thread)
Working Pressure Range 0-50 PSI
Front loading seat assembly is easily replaceable in the field
Comes with wall mounting brackets
0-60 PSI low pressure gauges (Right Hand Thread)
---
We Also Recommend