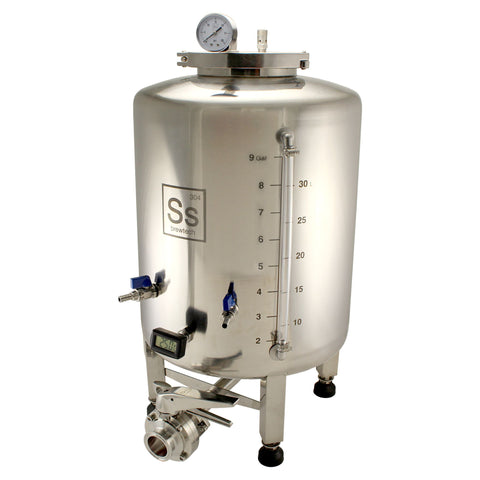 Ss Brewtech 10 Gallon Brite Tank
The 10-gallon Brite Tank from Ss Brewtech is a fantastic solution for carbonating your beer in a remarkably short time, as it can achieve carbonation within just 24 hours.
This tank is designed to work seamlessly with a chiller unit, providing the most effective carbonation and conditioning process for your beer. With its ample capacity, you can store and condition your 10-gallon batches, allowing your beer to reach its highest quality potential.
The center drain of the tank enables low yeast pickup, ensuring the clarity of your beer. In addition to its impressive functionality, this Brite Tank is packed with features and parts that enhance your brewing experience. It includes a carbonation stone, pressure and temperature gauge, and a sight glass for convenient monitoring of your beer's level. The top port of the tank is sized to accommodate a 6-inch immersion chiller coil, allowing for efficient beer cooling. The tank is also equipped with a 1.5-inch butterfly valve, enabling easy transfer of your beer.
The dimensions of the 10-gallon Brite Tank are 24 inches in height and 13.5 inches in width from the feet to the top of the lid. Its compact size makes it suitable for various brewing setups without sacrificing capacity or functionality.

Specifications:

Constructed from high-grade 304 stainless steel
Enables both clarification and carbonation of beer in a single vessel
Comes with a 6" Tri-Clamp lid and clamp for secure sealing
Operates at a pressure of 15 psi

Fitted with a pressure gauge (0-30PSI) for real-time pressure monitoring

Includes a pressure relief valve for safety
Adopts the professional brewing-standard domed bottom design
Features a unique Ss 1.2" TC butterfly valve with a short handle
Equipped with a sampling valve for easy testing
Comes with a carbonation stone to assist in carbonation
Incorporates a thermowell and LCD temperature display for precision control
Features a sight tube- graduated in Litres and Gallons
The feet are adjustable for stable positioning

---
We Also Recommend