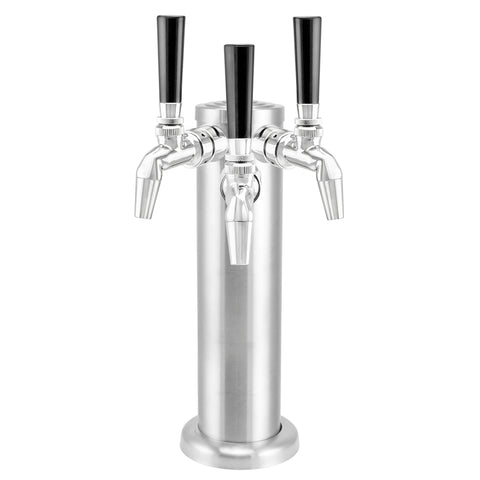 Brushed All Stainless Steel Triple Tap Beer Tower
This tower boasts a sleek, stainless steel design that's ideal for dispensing both beer and wine. By using stainless steel, you'll create a more sanitary environment while preventing wine from oxidizing.
Equipped with three faucets, this tower allows you to dispense three different types of beer simultaneously. The brushed finish ensures that fingerprints won't mar its attractiveness, making it the perfect addition to any home or commercial bar.
Not only is the brushed stainless steel finish visually appealing, but it also maintains its good looks for years to come. 
Includes:

Brushed Stainless Steel Triple Tap Beer Tower - 12 1/2" Tall
Nukatap Stainless Steel Beer Faucets x 3
Integrated Stainless Steel Tower Shank Assembly x 3
6' of 3/16" ID Bevlex Beer Line per Faucet
Black Plastic Top Handles x 3
Mounting Hardware
Mounting Hole Distance: 3 3/4" (From mounting hole center to opposing mounting hole center)
---
We Also Recommend