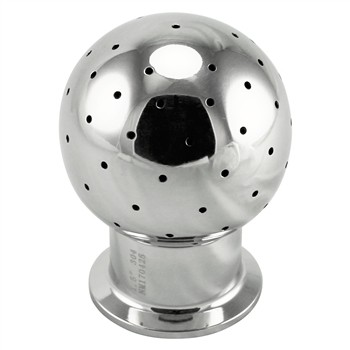 Stainless Steel 316 Tri-Clover Stationary CIP Spray Ball 2" TC
The Stainless Steel 316 Tri-Clover Stationary CIP Spray Ball is designed for use with a 2" TC connection. This spray ball is made from high-quality stainless steel, ensuring durability and resistance to corrosion. It is commonly used in the brewing industry for cleaning and sanitizing tanks, fermenters, and other equipment.
The stationary design of this CIP spray ball allows for easy installation and effective cleaning. It creates a high-velocity spray pattern, ensuring thorough and efficient cleaning of your equipment. The 2" TC connection provides a secure and leak-free connection, making it easy to integrate into your brewing setup.
Cleaning in place (CIP) is an essential process in maintaining the cleanliness and hygiene of your brewing equipment. Upgrade your brewing setup with this stainless steel Tri-Clover stationary CIP spray ball and ensure the cleanliness and quality of your brews.
Specifications:

Stainless Steel (316)
360 degree and 10 ft of cleaning coverage
Optimum Operation: 40 GPM @25 PSI

Pin-End
Requires opening of 2 3/4" or bigger
Works with 2" TC fittings
Fits standard commercial kegs
Please note: Screen gasket is necessary to block particles and prevent clogging.
---
We Also Recommend