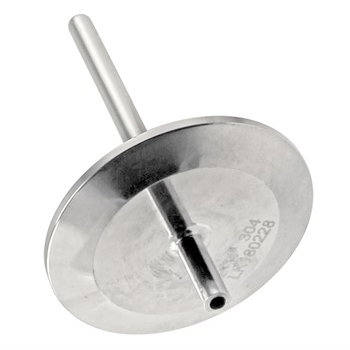 Stainless Steel Tri-Clover 4" Thermowell - 2" TC
The Stainless Steel Tri-Clover 4" Thermowell is a valuable tool for monitoring and controlling temperature during the brewing process. It features a 2" TC connection, allowing for easy installation and compatibility with your existing equipment.
Measuring 4" in length, this thermowell provides sufficient depth for accurate temperature readings. It is designed to be inserted into your fermenter or kettle, allowing you to monitor the temperature of your brewing liquid without the need to open the vessel.
Crafted from high-quality stainless steel, this thermowell is resistant to corrosion and ensures durability. Its tri-clover connection guarantees a secure and leak-free attachment, giving you peace of mind throughout your brewing process.
Specifications:

Stainless Steel (304)
4" Long
Works with 2" TC fittings

Fits standard commercial kegs
Please note: This item does NOT work with Ranco or Johnson Digital Controls.
---
We Also Recommend