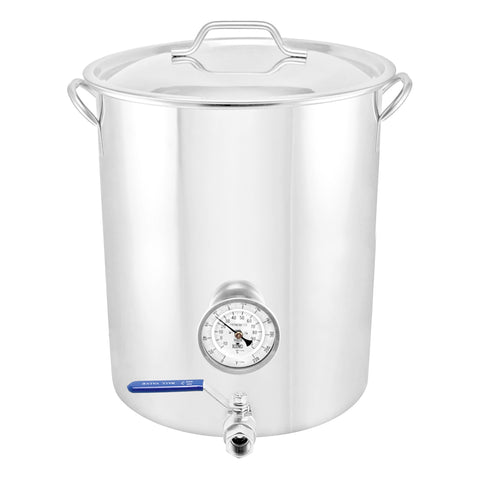 8 Gallon (30L) Stainless Steel Advanced Brew Kettle
This 8-gallon brew kettle is equipped with internal markings for measuring the wort and pre-drilled holes to accommodate the included thermometer gauge and ball valve, making this a great pot for brewing 5-7 gallon batches.
Please note that this product does NOT have a tri-clad bottom

 Specifications:
200 Series 20-Gauge Stainless Steel
Polished Stainless Steel
8 Gallon Capacity
Graduated Volume Markers (From 1 to 7 Gallons)
Strong sturdy lid
Includes 2" probe thermometer and 2-piece ball valve
We suggest you order this product by itself. Shipping additional items inside the pot increases chances of damage during shipping. We will of course package and ship items inside a pot if you want. But we can not assume liability for damage if you choose to do so.

---
We Also Recommend