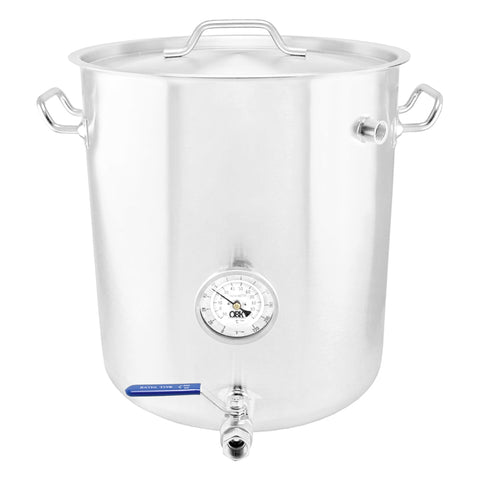 10 Gallon (38L) Stainless Steel Mash Tun Welded Brew Kettle - Tri-Clad Induction Ready
Mash King's 10 Gallon Stainless Steel Mash Tun Welded Brew Kettle is equipped with an advanced aluminum core tri-clad bottom, which is more robust than regular kettles. This feature not only provides compatibility with an induction heater, but ensures ideal heat distribution and minimizes the risk of hot spots near the bottom of your wort.
The kettle includes a ball valve, probe thermometer, and an additional welded fitting at the top for setting up a recirculating mash system. Simply add a false bottom, and you can begin brewing some of the best beer. Alternatively, you can use this vessel as a boil kettle with a high mounted whirlpool arm (not included).
Specifications:

200 Series 18-Gauge Stainless Steel
Brushed Stainless Steel
15 Gallon Capacity
5mm Tri-clad Bottom. Induction Ready
25% thicker walls over entry level pots
625% thicker bottom compared to entry level and economy pots that helps minimize scorching
Strong sturdy lid
Bolted handles
1/2" NPT Welded Fittings
Includes 2" probe thermometer and 2-piece ball valve
FREE Bonus: Purchase this 10 Gallon, Induction Ready Mash Tun/Brew Kettle and you'll receive the 'Every Drop Dip Tube' for free!
We suggest you order this product by itself. Shipping additional items inside the pot increases chances of damage during shipping. We will of course package and ship items inside a pot if you want. But we can not assume liability for damage if you choose to do so.
---
We Also Recommend