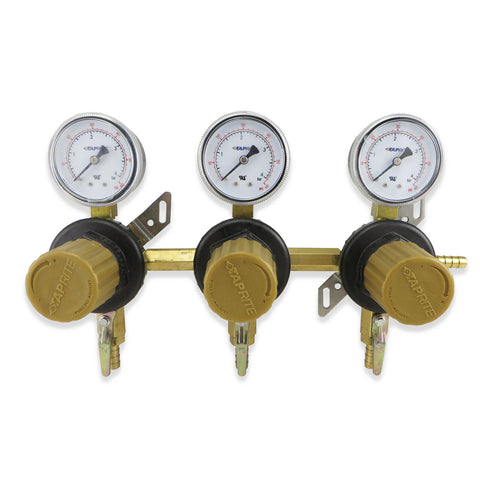 Taprite Triple Product Secondary CO2 Regulator (60PSI) #T1683ST
Do you need to control the pressure of three products using just one CO2 tank? Look no further than this top-notch regulator that will serve you well for years to come. This exceptional secondary regulator allows you to precisely regulate the pressure of each keg individually.
For added peace of mind, we have equipped each regulator with a high volume external safety relief valve that is pre-set to relieve pressure at 55-65 PSI, ensuring the safety of your dispensing systems.
Our Taprite secondary regulators are expertly designed to further lower the pressure from a primary regulator to an ideal dispensing level.
Additionally, our regulators are outfitted with an internal relief valve that automatically opens if the delivery pressure exceeds the set pressure by 15 PSIG. This feature serves as a warning sign that the seat or diaphragm may be worn and requires replacement.
---
We Also Recommend