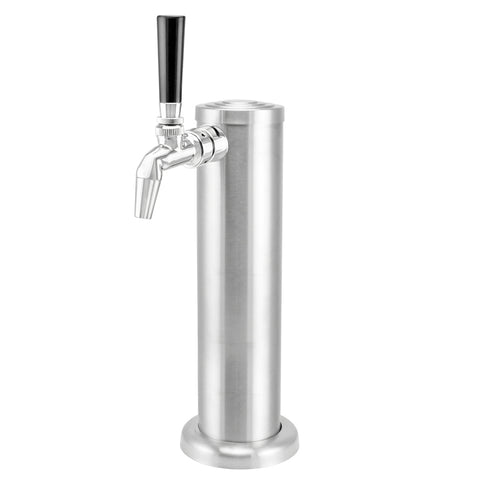 Brushed All Stainless Steel Single Tap Beer Tower
When it comes to serving beer or wine, stainless steel is the way to go. Stainless steel is essential for preserving the taste and quality of wine by preventing oxidization. Mixing brass and wine is definitely a no-go. Plus, stainless steel creates a more sterile environment for your beverages.
The brushed stainless steel finish not only looks great but also maintains its attractive appearance for years to come. This tower includes a Nukatap Stainless Steel Faucet, a stylish Black Plastic Tap Handle, Tubing, and a reliable gasket.
Elevate your bar with the Brushed Stainless Steel Single Tap Beer Tower - standing tall at 12 1/2".
A sleek 3" tower diameter adds a touch of charm to your setup.
Enjoy the quality of a Nukatap Stainless Steel Beer Faucet.
Add a fashionable Black Plastic Tap Handle to complete the look.
Count on the durability of the Stainless Steel Tower Shank.
6' of 3/16" ID Bevlex Beer Line per Faucet ensures a smooth pour.
Don't forget the essential tower gasket to seal the deal.
---
We Also Recommend