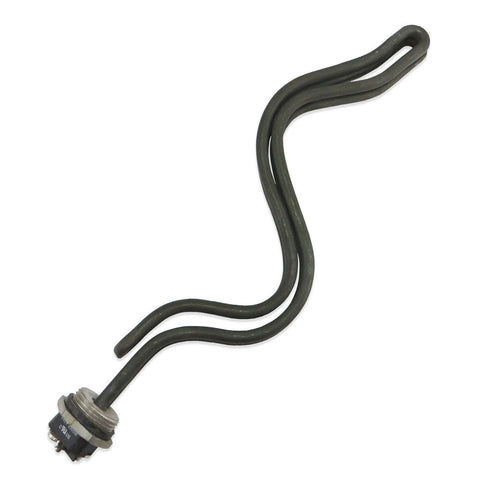 Camco Lime Life Threaded Heating Element 2965 - 5500 W / 240 V ULWD
Using an electric stovetop or heating element for boiling wort in homebrewing offers several advantages, including precise heat control and prevention of scorching or caramelization. Electric heating methods allow brewers to adjust the heat intensity to achieve the desired boil without the risk of burning the wort.
One popular option for homebrewers is the Camco model 2965 screw-in heating element. This particular heating element is designed with an ultra-low watt density, meaning it produces a relatively low amount of heat per square inch along the element. This promotes even boiling of the wort over an extended period, minimizing the risk of scorching or burning the natural sugars present in the wort.
The heating element is constructed with a nickel-chromium stainless steel alloy sheath that provides durability and resistance to dry firing. Dry firing refers to the heating element being turned on without sufficient liquid in the kettle, which can potentially damage or burn out the element. With the Camco model 2965, the stainless steel alloy sheath helps protect the heating element even in such scenarios, making it a reliable choice for homebrewers.
Specifications:

Nickel-Chromium Stainless Steel
5500W / 240V
Ripple Foldback Ultra Low Watt Style
Requires a 1" NPS Lock Nut
UL Listed for use in Canada
13 1/4" Element Length, 14 1/2" Total Length
WARNING!!! Consult an electrician prior to use. 
---
We Also Recommend