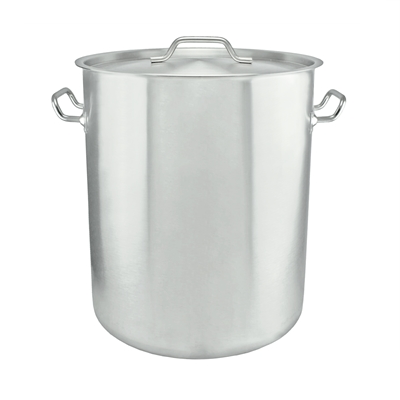 15 Gallon (57L) Stainless Steel Brew Pot - Tri-Clad Induction Ready
This 15 Gallon Stainless Steel Brew Pot has an impressive 57-litre capacity, making it ideal for larger batches. Its ergonomic design ensures easy handling and makes it compatible with any brewing setup. The walls are much thicker than standard pots, allowing for better heat retention and energy savings. The induction-ready, Tri-Clad bottom is 625% thicker than other steel pots, reducing the risk of scorching and supplying even heat. With proper care and timely cleaning, this kettle will last for generations!
Specifications:

200 Series 18-Gauge Stainless Steel
Brushed Stainless Steel
15 Gallon Capacity
5mm Tri-clad Bottom. Induction Ready
25% thicker walls over entry level pots
625% thicker bottom compared to entry level and economy pots that helps minimize scorching
Strong sturdy lid
Bolted handles
We suggest you order this product by itself. Shipping additional items inside the pot increases chances of damage during shipping. We will of course package and ship items inside a pot if you want. But we can not assume liability for damage if you choose to do so.
---
We Also Recommend